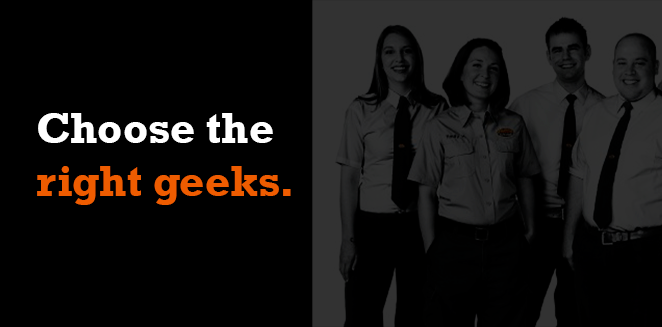 Geeksquad Houston
For expert Houston computer geek support call 832-944-6250.
If you are in the Sugar Land area and own a computer or an electronic device, chances are you've needed the services of a squad of geeks or a geek squad to assist with computer support or repair. If you live in Houston or Sugar Land, Geek Squad tech support isn't that far away.
We recommend you read reviews online before engaging any business computer support, especially when you are considering trusting a geeksquad at a large company like Best Buy or geek squad Houston with your personal and sensitive computer data. Geek Squad is a subsidiary of an American multinational consumer electronics corporation, Geek Squad Best Buy (geeksquad.com), headquartered in Richfield, Minnesota.
Large corporations can sometimes lose the personal service that a local company with reputable experience can provide.
Preactive IT Solutions Geeks
Preactive IT Solutions offers computer services to residential and business clients located in Houston and Sugar Land.
Depending on the size of your computer need, a single computer Geek or a Geeksquad in Houston can be easily deployed in a squad to your home or business.
In addition to our on-site computer support, Preactive IT Solutions can offer remote computer support and phone computer support. You may also visit our certified computer geeks in Sugar Land. Preactive IT Solutions is located at 15531 Southwest Fwy. Sugar Land, TX 77478. Call them at 832-944-6250. Preactive IT Solutions can repair your computer and solve your computer issue no matter where you bought it. We can provide you the following computer services: speed up your computer, remove virus and spyware, backing up your files, connect your wireless network, and general computer tech support.
Preactive IT Solutions is a locally owned, highly acclaimed, well established technical geek company located in Sugar Land TX, and has been providing its customers in Fort Bend County and Houston TX with a squad of technical geeks for more than 12 years.
Need Houston Computer Geeks?