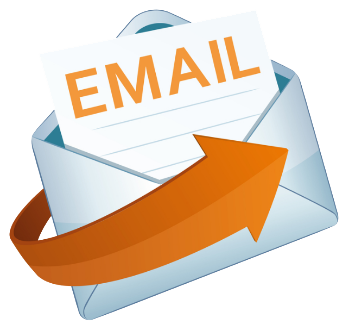 You have many choices for your email address today.
You can use one of the online giants, your own Internet provider or even create your own, but what are the pros and cons and how would you ever move after having this email for so long? It's the address all your customers have, right? If you think it would be just too difficult to change email addresses, don't stop reading yet. I'll give you an easy plan for moving.
Your Service Provider's Email
Perhaps your email address is bigdaddy@comcast.net or grannyhotpants2354@att.net. When you signed up for your Internet service with Comcast, Windstream, Consolidated, Verizon, AT&T or maybe even Southwestern Bell you opted to get an email address from them. After all they give it to you for free and we all like some free. Well it's not REALLY free. The cost to you is that it's a chain that binds you to that Internet service provider. You can never leave them without giving up that email address. It's a really great customer retention tool for them and a burden to you that limits your choices. For that reason, you should not use your service provider's email service. If you are using it, you should switch to another email address even if you aren't looking to change Internet service providers right away. Go ahead and switch to give yourself the option to change providers later if the need arises.
The Online Guys
One big benefit to using one of the popular online email providers like Outlook.com or Gmail is that you are no longer chained to your current Internet provider. Also these online providers are typically better at filtering out the SPAM emails than your provider is. These big guys are not without problems though. For example, if you love to use Outlook for your email, then don't choose Gmail. While it will work most of the time, you will see random problems sending and receiving emails. It may refuse to let you check your mail, but then if you login to the Gmail web site and change your password, it will start working again. Gmail wasn't really designed with a software like Outlook in mind. They really want you to use their web interface. If you are good with that limit, it's great.
You might be thinking "but wait... what about Yahoo! mail?". I wouldn't touch it with a ten foot pole as they say. While Yahoo! is very functional and even has the option to work with Outlook, they are without a doubt the most hackable big name email provider. I don't think they really thought much about security until the last year or two. My spam folder is constantly barraged with advertisements sent to me by my friends with Yahoo! mail accounts that have been hacked. I rarely see that with Gmail.
Your own email
In my opinion, this is the best way to go. Purchase your own domain name at Godaddy or Network Solutions then setup your email domain at Microsoft Office 365. The Office 365 service uses an Exchange server. This is the same technology that large corporations use, but at an affordable price. Office 365 is far superior to Gmail, Yahoo! or any of the other free email providers. It allows you to synch your emails, contacts and calendar with Outlook on your PC or Mac and with any Microsoft, Adroid or Apple mobile device. That's something the free services can't do. If you own a small business, then Office 365 is probably the email system you've been dreaming of.
How To Change Email Addresses
So you've decided to change email addresses, but how do you do that without losing emails from people that know your current email address. The process is pretty simple. Most email services allow you to forward your email to another address. So setup your new email address and forward your old email account to the new one. Send out an email notice to all your contacts to let them know you are changing email addresses. With the forward in place, you will get your email whether they send to the old address or the new. If your old email provider allows it, also send an auto-reply from that account to alert others to the email change any time they email the old account. You can leave this setup in place until you are comfortable that everyone is emailing you on the new address then simply shutdown the old email account. You should allow at least a month for this.
Do you feel like you might need come help or some questions answered about your email and the best plan for you or your business? Give Preactive IT Solutions a call at 281-494-0894 and we can help!